After seeing posts of the Essence Circus Circus collection popping up, I've been stalking my closest Priceline for weeks! The fun theme, packaging, and shades drew me in. I picked up 02 My Glammy Acrobat Lip Lacquer; 01 Applause, Applause Lip Lacquer; 04 Cotton Candy Colour3 Nail Polish; 01 It's Magic Highlighter Powder; 02 Raise the Curtain for... Longlasting Eyeshadow; and 01 It's Magic Lip Topper.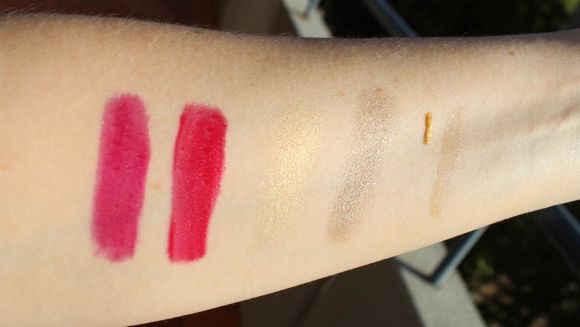 The Lip Lacquers come with a doe-foot applicator; the texture of these is similar to a lipstain, yet it remains shiny on the lips like a gloss. I found My Glammy Acrobat to have a slight cherry scent. My Glammy Acrobat is a vivid hot pink and Applause, Applause is a cool strawberry red. Both are comfortable to wear, but application was a bit tricky since the watery texture made it a bit difficult to get a sharp, clean line.
It's Magic Highlighter Powder is a fantastic value, 9g/0.31oz of product for less than $6! The texture is smooth, however, it's not as finely milled as higher end products given the price, but I can't complain. In the powder there is a big-top tent embossed that should last through several uses. I swatched it alongside my favourite highlighter, TheBalm's Mary-Lou Manizer; It's Magic is more yellowy gold and a bit less pigmented -- I think it would make a great everyday highlighter because it's not too flashy.
Cotton Candy Colour3 Nail Polish consists of a vivid pink creme on one side and a pink glitter top coat on the other side. The pink creme was surprisingly opaque as I was able to cover my nail line in just one coat. The pink glitter top coat is suspended in a clear base and contains pink glitter which flashes a bright purple shade. So far I've been wearing it for one day and notice no chips or dents, just barely noticeable tip wear on the middle finger.
Raise the Curtain for…Longlasting Eyeshadow is a shimmery taupe cream eyeshadow. The texture has a little bit of slip like a mousse product and when I applied it I had to pull my finger across my eyelid to deposit colour instead of patting my finger like I do for most cream eyeshadows. I wore this over a primer and it lasted all day without fading and experienced just a tiny bit of creasing, which is not bad considering I didn't set it with a powder eyeshadow. It's almost as if Maybelline's Colour Tattoos in Audacious Asphalt, Bad to the Bronze and Tough as Taupe had a baby.
It's Magic is also the name of the Lip Topper, a glittery gold lip gloss. It comes out of the tube looking quite yellow, but it adds a nice golden shimmer to the lips. It's especially pretty when applied the to centre of the lips to create a fuller look.
As with any Essence Trend Edition, I recommend going to check them out sooner rather than later as the products fly off the shelves quite quickly! The Circus Circus collection is exclusive to Priceline. The Lip Lacquers are $3.50, It's Magic Highlighter Powder is $5.95, It's Magic Lip Topper is $3.95, Colour3 Nail Polishes are $5.50, and Longlasting Eyeshadows are $5.50.