Burberry cosmetics have finally landed here in Ozlandia (Australia to you); David Jones now carries the 16-month-old makeup line alongside their existing popular perfumes. The counter might be small in size, but their storefront showcases sleek and slim lines much like their packaging and models. In the cosmetic world Burberry is still young, however their trench coat and classic plaid pattern have both paved the way for such an iconic brand. Upon spotting the counter recently, I quickly made my way over to see what they had to offer. The colors are reminiscent of Clinique, but still different enough for me to want to try a few things out. I've been meaning to purchase a bronzer, so I asked to take a look. However, it was mid-day and I was sporting an unflattering sheen from the heat of the day; the sales girl's suggestion was to give Burberry's Sheer Foundation in Trench # 6 a whirl in order to fully see how well their bronzer can perform. I decided to purchase a shade in Nude Glow # 3, but declined to be up sold on the foundation. A day later, I went back and added Trench # 6 to my arsenal.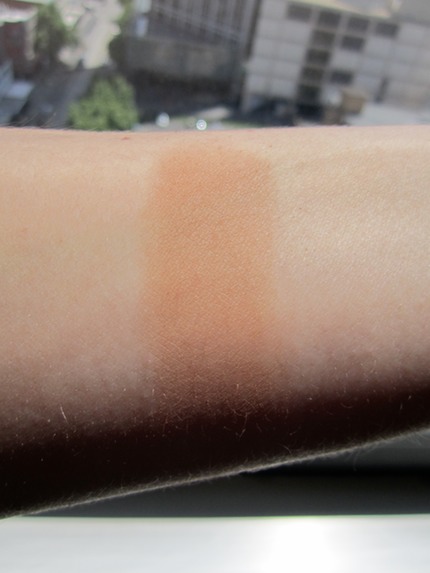 The coverage of Burberry's foundation is very light, but you can certainly build it up if need be. I tested the foundation a few more times after making this impulsive/expensive purchase and then disaster struck… my skin broke out! I unfortunately had an allergic reaction to the light perfume scented foundation. The following Sunday, I reluctantly returned the bottle and purchased these instead. Thankfully, I didn't have any sort of a reaction to the bronzer - at least I can continue to sport a sun-kissed glow with my old standby.
I am a huge sucker for blush, what can I say?! As for the eye shadow, I have yet to try it out. As soon as I create a new eye look, I'll be sure to post the final results. Below I am wearing my new blush and Gorgeous Cosmetics Shimmer Dust in Sand Shimmer.
The Bagful breakdown:
Cost of foundation and bronzer:
$75 and $70, respectively - I think I paid more for the lovely packaging
Cost of the eye shadow and blush after the exchange of the sheer foundation:
$40 - I wanted the free gift; there's a sucker born every minute!
Value for money spent (performance and quality):
Likelihood to purchase from Burberry again:
Despite my reaction - extremely, but only when I hit the bottom of the pan