Another "lust" list item fulfilled. Tho, I am disappointed. Truth be told I was expecting a lot more from OCC's Lip Tar. The pigmentation of Memento (pink/plum neutral) is intense -- you only need a small amount of product (two to three drops for my lips), but it didn't last all that long, maybe two hours tops! Your lips are intended to be primed with their clear formula, but I skipped their recommendation because I didn't feel like paying $16.00 USD for something I didn't think I'd use regularly.
Instead, I opted to use my chapstick and finished my lips off with Maybelline's Minty Sheer gloss.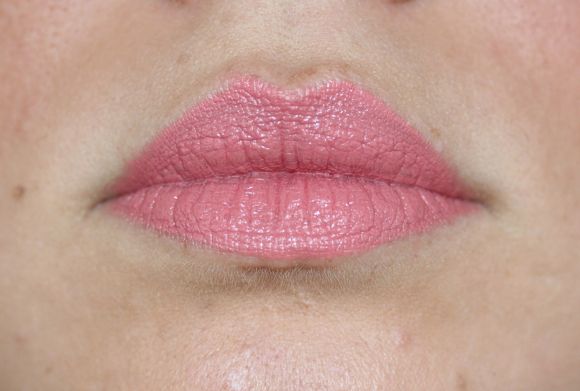 As I was writing this review yesterday, I felt it was turning too negative; I wanted to do this Lip Tar justice -- so, I wiped it off and stepped away from my computer. Approximately three hours ago I painted one layer of Memento atop my chapstick and this time the colour stuck around. While I do like the colour, I don't think OCC's Lip Tars were meant for my lips.
Observations:
Excess gloss will pool and dry where your lips part. You're left with a cakey line and people will notice when your lips move whilst talking. Not cute.
The Lip Tar also settled within the wrinkles and lines of my lips; I prefer a smoother finish. To me, my lips look like the end of a tied balloon. Ick.
Not as moisturising as I thought it would be.
The Maybelline gloss I used yesterday created an oil slick atop Memento, I think this prompted the colour to shift about -- effecting its wearability.
If your lips are even slightly dry, the gloss will find and highlight any flaky bits. Exfoliate prior to application.
The mint scent was a plus.
This gloss is meant for mixing, which is why I also bought NSFW (bright red) as well. Here's hoping NSFW performs a bit better. *Holds breath*
The Bagful breakdown:
Total amount for Obsessive Compulsive Cosmetics' Memento:
Value for money spent (performance and quality):
3 out of 10 bags – swatches well, but looks meh on my lips.
Would another purchase be on the horizon?:
I'll do a full review of NSFW and see what happens.
Still interested in trying OCC's Lip Tar, but it's not sold near you? OCC and Suite 7 Beauty ship internationally. Sephora ships to both the US and Canada.